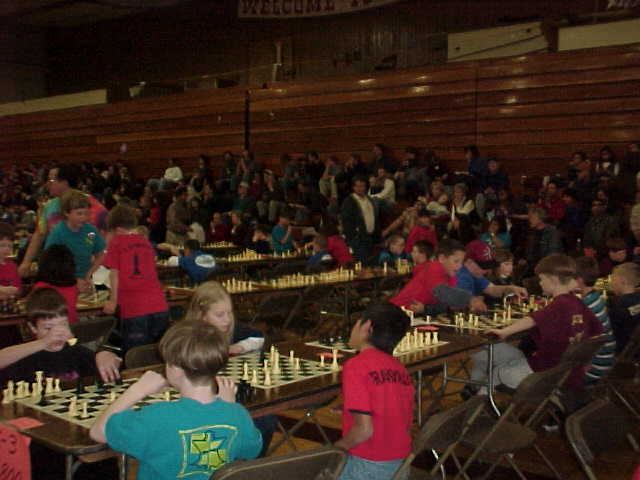 State Elementary Tournament Report
Nearly 600 K-6 players representing close to 100 schools descended on Yakima for the State Elementary Championships, returning to Apple Valley for the first time since 1987. Yakima graced us all with a lovely spring day-sunshine and temperatures in the 60's-which made for perfect chess weather. Yakima Valley Community College offered an excellent venue, with a large gym (including spectator stands), classrooms for team home rooms, and a park with ballfields to entertain the players between (and sometimes during) rounds. These amenities made what proved to be a long day somewhat more tolerable before it culminated in the presentation of nearly 400 individual and team awards.
The K-6 Open section saw a close struggle between perennial rivals. This time, Seattle Country Day came through in the last round to defeat Sherwood by two points in this 106 player section. The two top seeded individuals, Patrick Frazier of Stewart MS in Tacoma and Stephen Ju of Crestline in Vancouver, demonstrated the reasons for those seedings by notching perfect 5-0 scores to share the championship.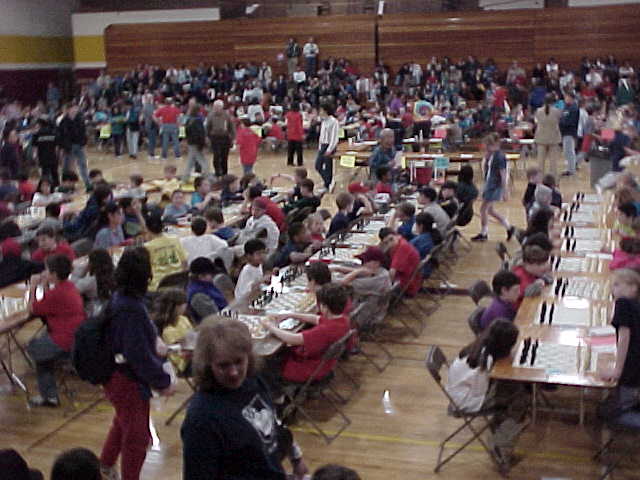 In the K-5 Open section, Vancouver's Homelink-Camas team left no doubters as it muscled its way to victory through the 119 player field by a 2.5 point margin over its nearest competitors, University Child Development School and West Woodland, both of Seattle. The individual title proved much closer, with Stephen Pick of Homelink sharing the honors with Stephan Haldeman of Cottonwood (Bremerton)-who downed higher-rated opponents in each of the last three rounds!-both at a perfect 5-0.
Because the K-5 and K-6 split the top grade players, K-3 Open section drew the largest crowd: 128 players from 48 different schools! Fittingly, the top team slot wound up in a tie, with Bryant of Seattle edging Kingsway of Vancouver on tiebreaks. Three players fought their way through the field for perfect 5-0 scores: State Co-Champions Michael LeRoy of Christ the King (Richland) and homeschooler Christopher Pilch along with Michael Cambareri of Idaho, who is in the process of moving to Spokane and competed in this year's event for honor only.
The Kindergarten section found its own venue in the Martin Luther King Room at the Student Union, and in those comfortable surroundings, Sunil Deolalikar swept the field of 30 players to win the only absolutely clear title with a 5-0 score.
This year's format included two Junior Varsity sections, one for K-3 players rated under 800 and one for K-6 players rated under 900 (paralleling the JV sections at Nationals). In the 83 player K-3 JV section, Lakeridge of Mercer Island and Bryant ran away from the rest, five full points separating 2nd from 3rd! In the end, Lakeridge triumphed by a 19.5 to 18 margin. Amazingly, two players who started in the bottom half of the rating list wound up sharing the individual championship with perfect 5-0 scores: Gabriel Armances of Stevens (Seattle) and Micah Larus-Stone of Lakeridge.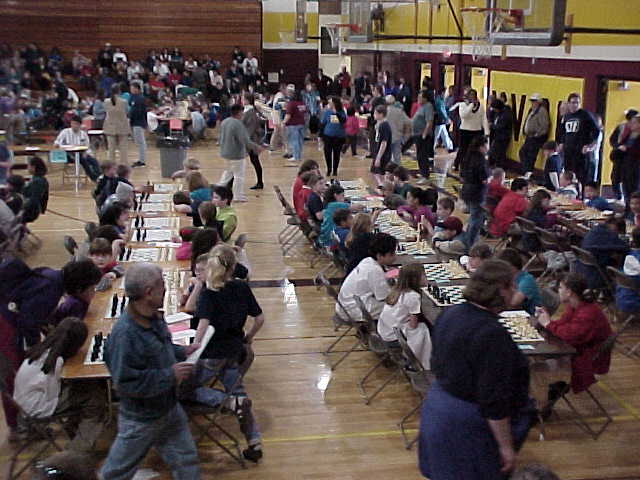 118 players entered the K-6 JV section, where Homelink-Camas eked out a one-point victory over Sherwood, 19.5-18.5. Here the top half held on to the co-champions' laurels, with Devin Grindy of Homelink-Camas and Kevin Proudfoot of Sherwood both marking up perfect 5-0 scores.
Special mention should be made of the teams which took home multiple team trophies. The only school managing a complete collection was Cornerstone of Vancouver, which took a 3rd, a 4th, and three 5th place trophies! Also deserving recognition was Homelink-Camas of Vancouver, which included two 1st places (K-5 Open and K-6 JV) among its four trophies. Three-time winners Bryant, St. Michael's, Kingsway, and Seattle Country Day also earned admiration for their excellence across all divisions. In all, 26 different schools from all parts of the state took home the 46 team trophies.
In conclusion, host Linda Ernst and Chief Arbiter Loren Schmidt would like to thank our local sponsors as well as the local setup crew and the volunteer TD staff from all around the state who pitched in and helped-we couldn't have managed without you! Special thanks to Chief Pairings Director Terry Fortier, his assistants John and Pam Wise, Chief Floor Director Ollie LaFreniere and his assistant Colin Southcote-Want, and to Copier/Collater Supreme Phil Way, all of whom helped the event run as relatively smoothly as it did. One couldn't ask for a better team. Next year's state will be held in Olympia, and we wish them the best of luck and a wonderful tournament.